CAG slams Navy for buying MiGs without weapons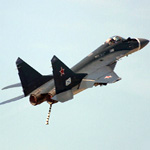 Pointing to a sheer wastage of public funds, the Comptroller and Auditor General (CAG) in its report slammed the Ministry of Defence and the Navy for buying war planes that do not have weapons. It also pointed a finger at the Indian Air Force (IAF) for having 'let off' three of its officers who caused a loss of Rs 302 crore when a sensitive aerostat radar got damaged. The CAG, in its report tabled in both Houses of Parliament, said the Indian Navy followed a flawed approach in acquiring its fighter aircraft fleet by not finalising the associated weapon package.
The CAG said that 11 out of 16 MiG 29K aircraft, acquired at a cost of $740.35 million (Rs 3,405.61 crore), been delivered in December 2009 and May 2011. No matching armament, for which a contract was signed in March 2006, has been delivered as on October 2010, thereby adversely affecting the operational capabilities of the aircraft.
Further, the Navy has selected a 'beyond visual range' (BVR) missile with an unsatisfactory track record. Lastly, the complete armament package finalised for the aircraft contains certain ammunition, worth $20.98 million (Rs 93.68 crore) which did not have the approval of the competent authority. The MiG 29K is a deck-based fighter meant for seaborne aircraft carrier INS Vikramaditya (Admiral Gorshkov). At present, the fighters are based at a land base in Goa as the aircraft carrier itself has not arrived.
The agreement was signed under an Inter-Governmental Agreement (IGA) between India and Russia in October 2000 for the procurement of an aircraft carrier along with the MiGs for onboard operations. The Ministry of Defence in January 2004 concluded a contract with Russian Aircraft Corporation (RAC-MIG) for procurement of the MiG 29K aircraft. The weapons package was postponed and de-linked from the negotiations for the aircraft.