November 2016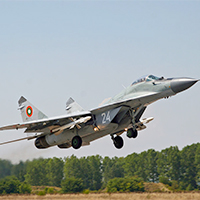 SOFIA (Bulgaria), November 23 (SeeNews) – Bulgaria's government said on Wednesday it approved an additional expenditure of up to 54.6 million levs ($29.6 million/27.9 million euro) under the defence ministry budget to ensure the airworthiness of the country's Air Force fleet of ageing Russian-made MiG-29 fighter jets. The implementation of the project will create the necessary conditions for the Bulgarian Air Force to maintain and develop capabilities for air policing, ...
Category: MiG News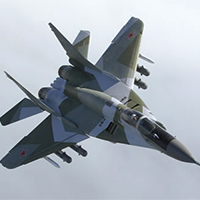 A Russian fighter jet crashed into the sea shortly into a training flight off the coast of Syria, Russia's Ministry of Defense has announced. "As a result of a technical malfunction during a training flight an incident occurred to a carrier-based MiG-29," read an official statement. "The pilot catapulted was delivered to the air carrier Admiral Kuznetsov by a rescue crew. The pilot was not hurt, and is ready for ...
Category: MiG News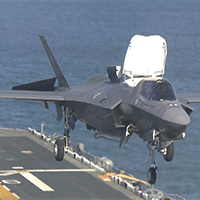 Aboard the USS America – The surf was high where the amphibious assault ship America sailed off the coast of San Diego — high enough to make the flight deck pitch and roll and set the conditions for a few minutes of crisis when an unfortunate sailor fell overboard and had to be rescued by helicopter. But with sea states between three and four, indicating swells from three to eight ...
Category: F-35 Lightning II