Military Aviation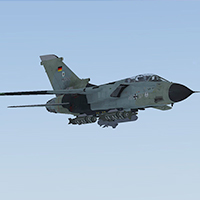 Germany has asked the US military for classified data on two Boeing fighter jets as it looks to replace its aging Tornado warplanes from 2025. The development is seen as a boost to Boeing which is locked in a trade dispute with Canada and Britain. A classified briefing is expected to take place in mid-November, following a similar presentation by US officials about the Lockheed Martin F-35 fighter jet in ...
Category: Military Aviation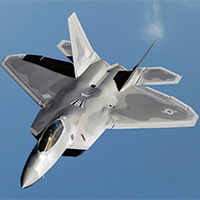 The U.S. Air Force is finalizing technology requirements for a new fighter jet to enter service sometime in the 2030s. Known as "Penetrating Counter Air," the new fighter will replace the F-22 Raptor and maintain American air superiority in future conflicts. The sixth=generation fighter will incorporate a number of new technologies that for now exist only on the drawing board. Citing the existence of advanced Russian weapons such as the ...
Category: Military Aviation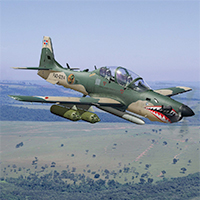 The State Department has made a determination approving a possible Foreign Military Sale to the Government of Nigeria of twelve (12) A-29 Super Tucano aircraft and weapons, including all associated training, spare parts, aviation and ground support equipment, and hangar, facilities, and infrastructure required to support the program. The estimated total case value is $593 million. The Defense Security Cooperation Agency delivered the required certification notifying Congress of this possible ...
Category: Military Aviation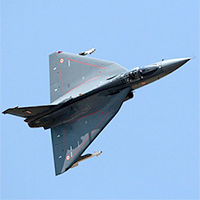 In 2016 the Indian Navy rejected the domestically built Tejas jet fighter or Light Combat Aircraft after a troubled thirty-three years of development in which the maritime fighting branch had invested significantly. However, the Indian Navy argued that the Tejas weighed too much, and produced insufficient thrust for takeoff from the ski-jump ramp of its forthcoming aircraft carrier. But the Indian Navy hasn't given up entirely on the Tejas; it ...
Category: Military Aviation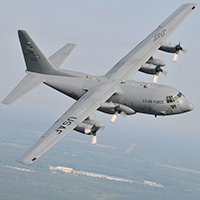 A military refueling aircraft crashed Monday afternoon in a soybean field in Leflore County, killing at least 16 and leaving a debris field five miles in radius, officials said. Mississippi Emergency Management Agency Director Lee Smithson said the plane crashed on the Sunflower-Leflore county line. Leflore County EMA Director Frank Randle confirmed that 16 are dead in the crash. "Most of them are gonna be Marines," he said. He could ...
Category: Military Aviation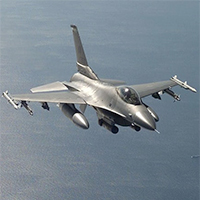 Tata Group and American aerospace giant Lockheed Martin today signed an "unprecedented" deal to jointly produce the combat-proven F-16 fighter jets in India, boosting Prime Minister Narendra Modi's 'Make in India' plan ahead of his first summit with US President Donald Trump. Under the deal, Lockheed will shift its Fort Worth, Texas plant to India without directly affecting American jobs, a campaign pledge of Trump who has vowed to put ...
Category: Military Aviation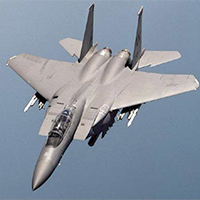 Qatar has signed a deal for 36 Boeing F-15QA fighter aircraft. The deal is reportedly worth $12 billion, according to media reports quoting official Qatari sources. The deal was finalised in Washington DC by Qatari defence minister Khalid Al Attiyah and US defence secretary Jim Mattis. Attiyah says the deal reflects increased Qatari and US collaboration in the fight against terrorism. The aircraft will also increase interoperability between US and ...
Category: MiG News, Military Aviation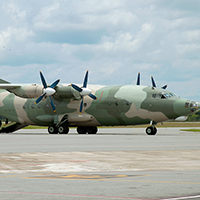 The Chinese-made Y-8F-200 took off from the southern coastal town of Myeik at 1.06pm local time on Wednesday and was heading to Myanmar's largest city, Yangon. It was on a regular, weekly flight that takes in several coastal towns. Those on board included 106 soldiers and family members and 14 crew, the military said. Myanmar's military said it lost contact while flying at 18,000ft over the Andaman Sea, 29 minutes ...
Category: Military Aviation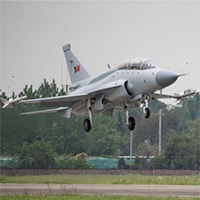 The dual-seat fighter trainer plane JF-17B developed by China made its maiden flight Thursday in southwest China's Sichuan Province. A variant fighter trainer for the JF-17, JF-17B was developed by the Aviation Industry Corporation of China (AVIC) to meet the requirements of international customers and the global market, according to the AVIC. The AVIC said in a statement that the plane can be used for training in peacetime and can ...
Category: Military Aviation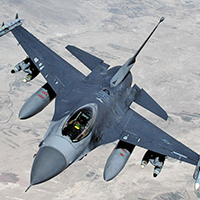 A fighter jet crashed Wednesday morning in a wooded area near Joint Base Andrews in Maryland, after he had mechanical trouble and steered the aircraft away from a neighborhood, officials say. A witness said the pilot's first concern was residents' safety. "I asked him if he was OK and he didn't even respond to that. He asked if everyone in the neighborhood was OK," Patrick Dodson said. The D.C. Air National ...
Category: Military Aviation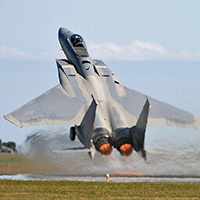 The Air Force is looking at possible plans to retire the F-15C/D Eagle as early as the mid-2020s, officials told lawmakers Wednesday. While the decision would mean divesting an entire aircraft class, officials said the F-15 capability would be replaced by the F-16 Fighting Falcon, a potential cost-saving measure that would allow pilots to train on fewer platforms. Air National Guard Director Lt. Gen. L. Scott Rice said the Air ...
Category: Military Aviation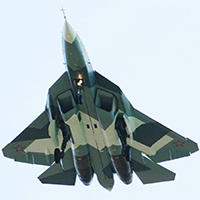 India and Russia have failed to make progress on one of their most prestigious defense deals—the co-development and production of the Sukhoi/HAL Fifth Generation Fighter Aircraft (FGFA), known in India as the Perspective Multi-role Fighter (PMF). The most recent stumbling block to a successful continuation of the project has been Russia's unwillingness to share sensitive aircraft technology with India. New Delhi is demanding a full-scale transfer of technology in order ...
Category: Military Aviation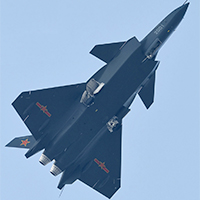 The Chengdu J-20, China's independently developed fourth-generation stealth fighter has entered service with the People's Liberation Army Air Force (PLAAF), as revealed by the military channel of China Central Television (CCTV) on March 9. Early in 2011, the J-20 stealth fighter made its maiden flight in Chengdu, Sichuan Province. In November last year, the J-20 fighter made its public debut at the Zhuhai International Air Show. As a masterpiece of ...
Category: Military Aviation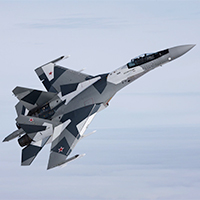 Russia will provide to China the first batch of four Sukhoi-35 jets by December 25, 2016, a source within the system of military-technical cooperation with other countries told TASS. "The first four Sukhoi-35 are to fly over to China by December 25," the source said. Originally the deliveries were to begin as of next year, but eventually a decision was made to speed up the process and to provide the ...
Category: Military Aviation