Russian Aviation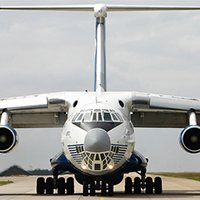 The Russian Defense Ministry will get the first serial Il-76MD-90A military transport plane next week, Russian aircraft manufacturer and design bureau Ilyushin said on Thursday. "The first serial plane is fully ready. It is expected to be handed over next week," a company source told reporters. The company confirmed that no Il-76MD-90A planes have been handed over to the Russian Armed Forces since 2014. Prior to that, the military transport ...
Category: Russian Aviation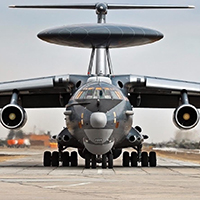 Moscow has touted the capabilities of its new Beriev A-100 airborne early warning and control (AEW&C) aircraft as being far superior to domestic and international rivals. The Russian defense ministry made the claim in a recent release about the type's launch of preliminary flight tests pending acceptance by the country's military. "The A-100 was developed in connection with the advent of new classes of targets and the creation of new ...
Category: Russian Aviation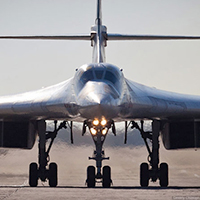 First Tu-160M modernised strategic bomber is to enter the Russian Armed Forces in 2021. It was announced by Defence Minister General of the Army Sergei Shoigu during his working visit to the Gorbunov Kazan Aviation Plant, a branch of the Tupolev PJSC. "We are working on upgrading the Tu-160M and giving its a new outlook in accordance with the schedule. The first aircraft which will have no analogues in the ...
Category: Russian Aviation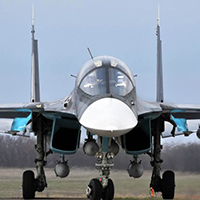 "On 18 January, at 8:07 (Moscow time), while performing a planned training flight over the Sea of Japan, 35 kilometers from the coast, two Su-34 planes of the Far Eastern Air Defence Forces made contact in the air while manoeuvring," reported the Department of Information and Mass Communications of the Ministry of Defence of Russia. According to the ministry, the search-and-rescue operation involves Tu-142, An-12, An-30 aircraft, Mi-8 helicopters. Another ...
Category: Russian Aviation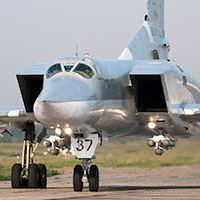 Russia's latest modernized Tupolev Tu-22M3M long-range missile-carrying bomber has performed its debut flight, a source in the domestic defense industry told TASS on Friday. "The first upgraded Tu-22M3M made the debut flight from the airfield of the Kazan-based Gorbunov Aircraft Enterprise on Friday. This flight started the missile-carrying bomber's flight tests," the source said. "There were no weapons aboard the aircraft and the flight was brief," the source said. The ...
Category: Russian Aviation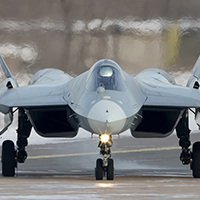 Russia's fifth-generation fighter jet Su-57 will have a long-range air-to-surface missile with a greatly extended range, the head of a leading Russian arms producer said. The Sukhoi Su-57 multipurpose jet may receive a new weapon system meant to hit targets on the ground from well outside the range of anti-aircraft defenses of the enemy. At least that's the implication of what Boris Obnosov, the head of Tactical Missiles Corporation (KTRV), ...
Category: Russian Aviation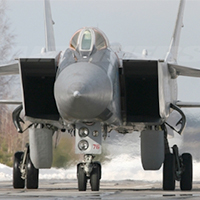 A mysterious fighter with a new, large missile suspended underneath could be a Russian anti-satellite weapon. The MiG-31 "Foxhound" interceptor was spotted last month at an aircraft test site near Moscow carrying a missile that could be used as an anti-satellite weapon or a means of quickly placing small satellites in orbit. According to Aviation Week & Space Technology, an experimental MiG-31 flew its first flight in September at the ...
Category: Russian Aviation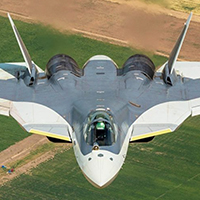 A hypersonic anti-aircraft missile with a range of over 300km will be part of the arsenal of the Su-57, Russia's most-advanced multipurpose fighter jet. The weapon is meant to take out high-value targets with impunity. The Su-57 is Russia's first 5th-generation aircraft, designed to be a formidable threat to major air powers such as the US. It is normally expected to carry weapons in its internal bays, to reduce radar ...
Category: Russian Aviation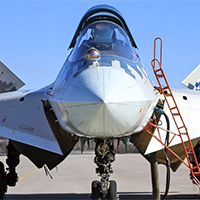 Russia announced earlier this month that the Su-57, its proposed entry into the world of fifth-generation stealth-fighter aircraft, would not see mass production. "The plane has proven to be very good, including in Syria, where it confirmed its performance and combat capabilities," Russian Deputy Defense Minister Yuri Borisov said on Russian TV on July 2, as reported by The Diplomat. But despite Russia's nonstop praise for the plane and dubious ...
Category: Russian Aviation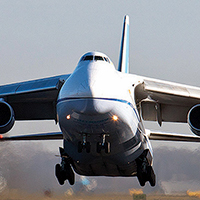 The military transport aviation division of the Russian Aerospace Forces plans to receive three new Il-76MD-90A strategic airlifters and one An-124 Ruslan heavy transport aircraft, which will be delivered after being upgraded, this year, Mikhail Kozlov, the division's chief engineer, said on Wednesday. "This year we should receive three Il-76MD-90A aircraft and one modernized An-124 Ruslan aircraft," Kozlov said. Earlier in the day, the leadership of the aviation engineering service ...
Category: Russian Aviation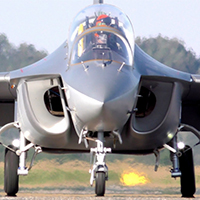 Russia's Defense Ministry will receive 14 Su-30SM fighter jets and ten Yak-130 jet trainers in 2018, Deputy Defense Minister Yuri Borisov said on Thursday. Russia to create Su-30SM fighter aircraft squadron on western flank "This year's production program includes only 24 planes: ten Yak-130 planes, 12 Su-30SM jets for the Russian aerospace forces and two for the navy," he said. "As for Yak-130 planes, ninety-two are already operating. We have ...
Category: Russian Aviation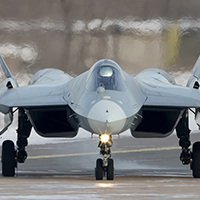 Russia's Su-57 fifth-generation fighter jet is specifically designed for air superiority and attack roles. Two such planes were reportedly spotted in the skies above Syria earlier this week. Two more Russian fifth generation Su-57 stealth fighters have arrived at Syria's Hmeymim Airbase, Sputnik Arabic reported, referring to local media outlets. Wael Al Hussaini tweeted that the Su-57s were escorted by Russian 4+ generation Sui-30SM multi-role fighter jets before landing at ...
Category: Russian Aviation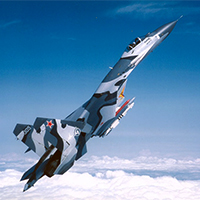 Russian Su-27 fighter jet intercepted a US surveillance plane over the Black Sea on Monday, prompting the American government to protest the manoeuvre as "an unsafe interaction". The US State Department said the Russian jet closed to within five feet and crossed directly in front of the EP-3 Aries II plane. The encounter, first reported by Russia's RIA news agency, cited the defense ministry as saying the US Navy aircraft, ...
Category: Russian Aviation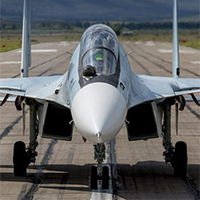 Myanmar has confirmed its commitment to purchase six new Russian-built Sukhoi Su-30 multi-role advanced tactical aircraft. Russian news agency TASS quoted the Russian Deputy Defense Minister, Lt. Gen Alexander Fomin, as saying the new Su-30s will, "become the main fighter aircraft of Myanmar's air force". Myanmar, bordered by China, India, Laos, Thailand and Bangladesh, currently operates a significant number of MiG-29 aircraft, quoted as being around 39 aircraft with little ...
Category: Russian Aviation