MiG-17 Fresco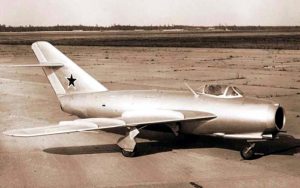 Introduction: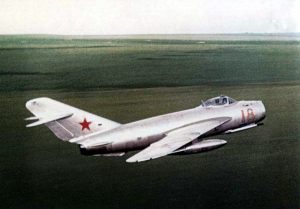 Less than a year after the MiG-15 had been sanctioned for production (1948), this design bureau initiated work on a follow-on fighter that would approach the speed of sound mainly through refinement of the basic airframe configuration. The first prototype received the designation I-330, and flew for the first time in January 1950. Claims that the I-330 managed to better Mach 1 during test flights are believed to be unsubstantiated, but the overall improvements in performance were important.Following the loss of the first prototype, a second and further improved prototype took over, allowing testing to be completed in 1951, and production of the MiG-17 was given the go-ahead. Compared to the MiG-15, the MiG-17 had a lengthened fuselage with softer taper, larger area tail surfaces to benefit handling characteristics, and thinner section wings with rounded tips. Indeed, the wings were designed from scratch, with the inner leading-edges extended forward; this resulted in greater root chord and varying leading-edge sweepback (45o along inner portions, 42o on outer panels). A mark of identification was the MiG-17's three boundary layer fences on each wing.Production began with a day fighter model (NATO "Fresco-A"), which retained the VK-1 engine. The later MiG-17PF introduced all-weather capability, housing Izumrud S-band radar in a "bullet" radome at the entree of the nose air intake and in an extension on the upper lip of the intake. Subsequently, this S-band radar was superseded by an E/F-band version of "Scan Fix", which still gave neither a large antenna nor a wide angle of scan and is now thought obsolescent.
Design Features:
Cantilever mid-wing monoplane. Sweepback 45o at roots, 42o on outer panels. Anhedral 3o. Three boundary layer fences on each wing.
Structure:
The fuselage is a semi-monocoque structure. The tail unit has sharply swept surfaces. Fin tip dielectric aerial.
Accommodations:
Pilot only in pressurised cockpit with ejection seat. Rearward sliding canopy.
Flying Controls:
Split Fowler type flaps. Bulged rear airbrakes.
Landing Gear:
Retractable tricycle type. Mainwheel tyres diameter 60 cm.
MiG-17F Fresco-C Specification
Prime contractor:
Mikoyan-Gurevich Design Bureau
Country of origin:
Soviet Union
NATO codename:
Fresco C
Function:
Fighter
Crew:
1
Year:
1950 (base version)
In-service year:
1954 ("F" version)
Power plant:
One Klimov VK-1F afterburning turbojet
Thrust:
7,436 lb.
3,380 kg.
Dimensions
Wing span:
31 ft. 6 in.
9.63 m.
Length:
36 ft. 9 in.
11.26 m.
Height:
12 ft. 5 in.
3.80 m.
Weight:
Empty
8,646 lb.
3,930 kg.
Max. takeoff
13,354 lb.
6,070 kg.
Performance
Ceiling:
54,448 ft.
16,600 m.
Speed:
702 mph.
1,130 km/h.
Range:
602 miles (on internal fuel)
870 miles (with external fuel tanks and bombs)
970 km. (on internal fuel) 1,400 km. (with external fuel tanks and bombs)
Armament
One N-37D 37mm cannon with 40 rounds and two NR-23 23mm cannons with 80 rounds per gun. Max. external weapons load of 500 kg. (1,100 lb.) include UB-16-57 launcher for S-5 unguided rockets, bombs or drop tanks, some versions carries two RS-1 (AA-1 "Alkali"), or R-3 (AA-2 "Atoll") AAMs.
Known Variants
MiG-17AS, MiG-17F, MiG-17P, MiG-17PF, MiG-17PFU, MiG-17RF, MiG-17LL
Operators
Afghanistan, Albania, Algeria, Angola, China (J-5)*, Congo, Cuba, Ethiopia, Guinea Republic, Guinea-Bissau, Madagascar, Mali, Mongolia, North Korea (J-5)*, North Yemen, Romania, Sri Lanka, Somalia, South Yemen, Sudan, Tanzania, Vietnam, Zimbabwe