MiG-23 Flogger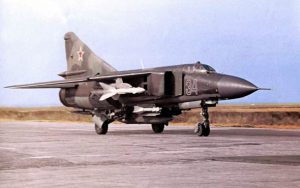 Introduction: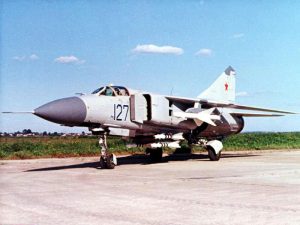 The Mikoyan-Gurevich MiG-23 was conceived in the early sixties, and was planned as a replacement for the MiG-21. As is common with military industrial complexes worldwide, nothing is "set in stone", and the model 23's would-be forefather is still flying, but with a smaller internal powerplant than the 23. The Flogger, as it is also known, much resembles a flattened triangle in flight when seen from the ground. It incorporates the use of a swept wing, as opposed to fixed, or stationary, immobile wings. This is one of the craft's most welcome features, resulting in adaptation to differing flying conditions. In addition, its engine was refitted and replaced with a more reliable one. Equipped with a static sensor and yaw vane for on-course monitoring, the jet is additionally outfitted with an air sensing probe, UHF/VHF antennae, a radar warning receiver, short-wave radio, and a substantial-sized "High Lark" multimode weapons guidance radar in its needlelike nose. Also provided in the structure of the MiG-23 are temperature probes which feed information to an onboard data-processing system. A Head- Up windshield-projected display, or HUD is also present, complete with "target box", technical flight, navigational, and instrumentational information. The Flogger is known as an Interceptor aircraft. It therefore has the responsibility of fighting off enemy air forces and requires heavy artillery in the form of air-to-air missiles. This armament is comprised of, but not limited to: Short-range weapons, such as the AA-8 Aphid infrared-guided projectile, the popular GSh-23L twin- barrel, 23-millimeter machine gun, and a medium-range air-to-air missile called the MRAAM, or in NATO terms, the "Apex". In the MiG-23F, standard weapons carried include the latter, as well as 2-AA-2 "Atoll" missiles under its engine inlets and 2 AA-2-2 "Advanced Atolls" on the pylons of its wing gloves. Several countries enjoy the benefits of defending their airspace or attacking that of others with the MiG-23. Among them are Czechoslovakia, Bulgaria, Hungary, India, Libya, Poland, Romania, Syria, and most abundantly in its homeland, the Former Soviet Socialist Republic. Due to the expanding amount of data available to the U.S. military, it is speculated that this aircraft plays a role within the air defense of Cuba, entering service in 1977 and deployed from the San Julian airfield. It is also surmised that Iraq at one time used the craft to attack Iran during war in the mideast.
Programme:
Development began 1964; 23-11/1 prototype first flew 10 June 1967 and was displayed during Aviation Day flypast, Domodyedovo Airport, Moscow, 9 July 1967; pre-series aircraft delivered to Soviet air forces 1970; initial series production interceptors delivered 1973; with MiG-27, superseded MiG-21 as primary equipment Soviet tactical air forces and aviatsiya PVO home defence interceptor force; production in USSR ended mid-1980s, but continues in India; replacement of early variants with MiG-29s and Su-27s continues.
Design Features:
Shoulder-wing variable-geometry configuration; sweep variable manually in flight or on ground to 16o, 45o or 72o (values given in manuals and on pilot's panel; true values 18o 40′, 47o 40′ and 74o 40′ respectively); two hydraulic wing sweep motors driven separately by main and control booster systems.
Accommodation:
Pilot only, on KM-1 or KM-1M (zero height/70-675 knots; 130-1250 km/h; 80-775 mph) ejection seat in air-conditioned and pressurised cockpit, under small hydraulically actuated rearward hinged canopy. Bulletproof windscreen.
Power Plant:
One Soyuz/Khachaturov R-35-300 turbojet, rated at up to 127.5 kN (28660 lb st) with max afterburning. Water injection system, capacity 28 litres (7.4 US gallons; 6.15 Imp gallons). Three fuel tanks in fuselage, aft of cockpit, and six in wings; internal fuel capacity 4250 litres (1122 US gallons; 935 Imp gallons). Variable geometry air intakes and variable nozzle.
Avionics:
Modernised SAU-23AM automatic flight control system, coupled to Polyot short-range navigation and flight system. Sapfir-23ML J-band multi-mode radar (NATO 'High Lark 2': search range 38 nm; 70 km; 43 miles, tracking range 29 nm; 55 km; 34 miles) behind dielectric nosecone; no radar scope; instead, picture is projected onto head-up display. RSBN-6S short-range radio nav system.
Landing Gear:
Hydraulically retractable tricycle type; single wheel on each main unit and steerable twin-wheel nose unit.
MiG-23M Flogger B Specification
Prime contractor:
Mikoyan-Gurevich Design Bureau
Country of origin:
Soviet Union
NATO code:
Flogger B
Function:
Attack/fighter
Crew:
1
Year:
1967 (base version)
In-service year:
1973 (base version)
Power plant:
One Soyuz/Tumansky R-35-300 afterburning turbojet
Thtust:
28,600 lb.
13,000 kg.
Dimensions
Wing span:
Fully spread
45. ft. 8 in.
13.97 m.
Fully swept
26 ft. 7 in.
7.78 m.
Length:
54 ft. 8 in. (including nose probe)
16.71 m. (including nose probe)
Height:
15 ft. 1 in.
4.82 m.
Weight:
Empty
22,440 lb.
10,200 kg.
Max. takeoff
39,160 lb.
17,800 kg.
Performance
Ceiling:
60,680 ft.
18,500 m.
Speed:
1,553 mph.
2,500 km/h.
Range:
1,211 miles
1,950 km.
Armament
One GSh-23L 23mm two-barrel cannon with 200 rounds. Max. external weapons load of 3000 kg. (6,600 lb.) include R-3 (AA- 2 "Atoll"), R-13M (AA-2-2 Atoll-D), R-13R ("AA-2-2 Atoll-C"), R-23/24R (AA-7 "Apex"), R-23/24T (AA-7 "Apex"), R-60 (AA-8 "Aphid"), R-60M ("AA-8 Aphid") AAMs., ASMs., S-5, S-8, S-24 unguided rockets, FAB-250, FAB-500 unguided bombs, OFAB-100 blast-fragmentation bombs, cluster bombs, ZAB-500 napalm bombs, UPK-23-250 pods containing a GSh-23L cannon, dispenser weapons.


Typical interceptor configuration:

Six R-23/R-24 (AA-7 "Apex") AAMs., or eight R-60 (AA-8 "Aphid") AAMs.
Known Variants
MiG-23B, MiG-23BN, MiG-23BK, MiG-23BM, MiG-23BN, MiG-23M, MiG-23MF, MiG-23ML, MiG-23MLA, MiG-23MLD, MiG-23MS, MiG-23P, MiG-23S, MiG-23UB, MiG-23UM, MiG-24 (export MiG-23)
Operators
Afghanistan, Algeria, Angola, Belarus, Bulgaria, CIS, Cuba, Czech Republic Germany, Ethiopia, Hungary, India, Iraq, Kazakhstan, Libya, North Korea, Poland, Romania, South Yemen, Sudan, Syria, Ukraine, Vietnam
Aircraft's Price
1996 – $15 millions.