RD-33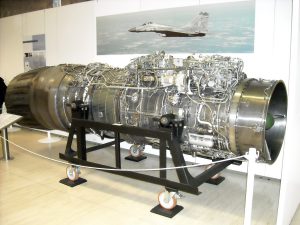 The RD-33 turbofan engine was developed in OKB-117 lead by S. P. Izotov (now OAO Klimov) from 1968, production started in 1981. It is an 8,000 to 9,000 kilograms-force (78,000 to 88,000 N; 18,000 to 20,000 lbf) thrust class turbofan twin-shaft engine with afterburner built by the Klimov company of Russia and has several variants. It features a modular design, individual parts can be replaced separately and has a good tolerance to the environment. The RD-33 is simple to maintain and retains good performance in challenging environments.
Variants
RD-33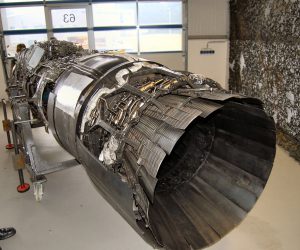 Baseline model developed in 1976 to power the MiG-29.
RD-33B/NB
A model without afterburner for various types of aircraft.
RD-93
A variant used to power the JF-17 / FC-1. According to JF-17.com "The most significant difference being the repositioning of the gearbox along the bottom of the engine casing." The Klimov poster at Zhuhai 2010 airshow gave the thrust of the enginer to be upto 94 kN. Klimov RD-93 poster.
SMR-95
A model for upgrading international 2nd and 3rd generation jet fighters. The accessory gearbox is repositioned below the engine, length can be varied depending on the adopted aircraft fuselage. The engine passed bench tests and flight tests on the Super Mirage F-1 and Super Cheetah D-2 aircraft of the South African Air Force and had achieved an improvement in flight performance and combat efficiency by a factor ranging from 1.2 to 3.0.
RD-33 series 3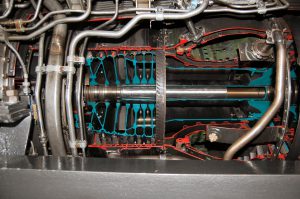 A revised model with a longer service life used on later or upgraded old variants of the MiG-29 such as MiG-29M and MiG-29SMT.[4][5] A pair of RD-33 series 3 engine equipped with TVN is currently undergoing flight tests as a component of the MiG-29OVT jet fighter.
HAL series 3
In 2005, Russia signed a $250 million deal with India to modernize engines for the MiG-29 fighters of the Indian Air Force. According to the terms of the deal, Hindustan Aeronautics Ltd (HAL) will make 120 RD-33 series 3 jet engines at its Koraput plant for the upgrade of MiG-29 fighters. The engine designer, St. Petersburg-based Klimov, is also one of the players in the deal with India. Both of them are part of the RAC MiG corporation. In the first stage HAL is expected to make 120 engines, which would cost less than those directly bought from Russia. This deal would help HAL master the assembly of next generation jet engines, including RD-33MK (Sea Wasp) engines for deck based MiG-29K naval fighters being acquired under the Gorshkov aircraft carrier deal. It will also help develop thrust-vectoring engines for the MiG-35 fighters.
RD-33MK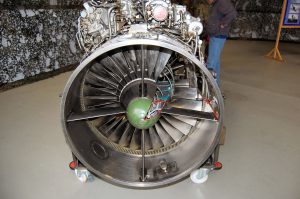 The RD-33MK "Morskaya Osa" (Russian: Морская Оса: "Sea Wasp") is the latest model developed in 2001. It is intended to power the MiG-29K and MiG-29KUB shipborne fighters, however it has also been adopted for the MiG-35. The RD-33MK develops 7% higher thrust, is digitally controlled FADEC and smokeless unlike earlier RD-33 engines, has increased afterburner thrust to 9,000 kilograms-force (88,000 N; 20,000 lbf) and dry weight 1,145 kilograms (2,520 lb) compared to the baseline model through modern materials used on the cooled blades, although it retains the same length and maximum diameter. Incorporated is an infrared and optical signature visibility reduction systems. Service life has been increased to 4,000 hours. The RD-33MK ensures shipborne fighters unassisted take-off capability, retain performance in hot climate environment and, naturally, a boost in combat efficiency for MiG-29 fighter latest variant.
RD-33 Specification
Jet Engine ID
74
Country
Russia
Engine model:
RD-33
Take-off rating (dry):
49.4 kN (11,110 lb) D
Take-off rating (wet):
81.4 kN (18,300 lb) W
Weight (dry):
1,055 kg (2,326 lb)
Airflow:
75.5 kg (166 lb)/s
Arrangement:
4F, 9A, a/b
BPR:
0.49
Diameter:
1,040 mm (40.95 in)
Length:
4,229 mm (166.5 in)