Zhuk Radar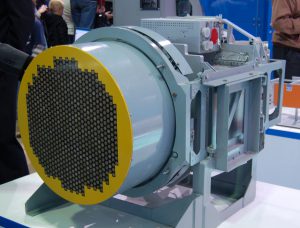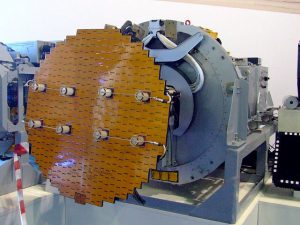 The original Zhuk radar was designed by in the mid eighties for the MiG-29M, an update of the MiG-29 intended to rectify the shortcomings of the original MiG-29. Tested from 1987 on a special MiG-29 (9-16) testbed machine, and drawing again on the Soyuz program, the Zhuk was intended to be the first truly multimode radar developed in the former Soviet Union, with a full range of air-air and air-ground modes enabling the host aircraft to perform a wide range of tasks.
Zhuk-M features a greater air and sea target detection range, enhanced resolution against ground in synthetic aperture radar mode, as well as an advanced "Bagiet" series computer. Compared to the N019 radar installed on the majority of MiG-29s, Phazotron achieved greater target detection range, observation angles in azimuth close to 90 degrees, greater number of targets that can be detected and attacked, air-to-surface capability, use of the R-27ER1 and RVV-AE missiles, as well as targeting of the Kh-31A and Kh-35 missiles.
Look-up range is 130km head-on, 50km tail-on versus fighter target.
Look-down range is 120km head-on, 40km tail-on versus fighter target.
TWS mode tracks 10-20 targets and engages 2-4..
Zhuk-series Working Modes
The radar features a built-in test capability and is credited with 15 operating modes divided between air-to-air and air-to-surface modes as follows:
Air-to-air
Look-up/look-down range-while-search and Track-While-Scan (TWS) of 10 targets with simultaneous engagement of up to four.
Air combat
Vertical search; head-up display search; wide-angle search; boresight and automatic terrain avoidance for low-altitude combat operations.
Air-to-surface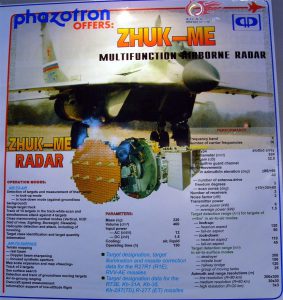 Real beam ground-mapping; Doppler beam sharpening; synthetic aperture; display enlargement/freeze; TWS on four targets; ground target Moving Target Indicator (MTI)/tracker; air-to-surface ranging and navigation update. Weapons compatibility includes the Kh-31A, R-27R1, R-27T1, R-37E and RW-AE munitions.
Weight: 220kg.
Volume: 400dm3.
Antenna: 624mm diameter, 34.5dB gain.
Peak power output: 6kW.
Average power output: 1.5kW.
Power required: 12 kVA AC, 1.5 kVA DC.
MTBF: 200h.