MiG-AT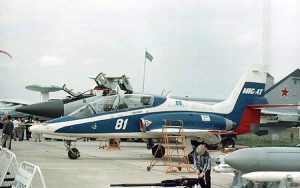 Programme: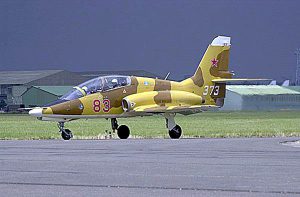 Design started late 1980s; selected in May 1992 as one of two finalists (with Yak-130, following rejection of Sukhoi S-54 and Myasishchev contenders) in Russian competition to replace Aero L-29 and L-39 Albatros; originally planned (as MiG-ATTA, a designation also applied to abortive joint venture with Promavia) with T tail and R-35 (DV-2) engines, with wing by Daewoo, landing gear by Messier-Bugatti, avionics by Sextant, Thomson-CSF (now Thales) and SFENA. Under October 1992 and subsequent agreements, prototypes and preseries aircraft are powered by an initial five Larzac 04R20 engines supplied by SNECMA of France; production aircraft for domestic market may eventually have Larzacs licence-built by Chernyshev of Moscow, though there is a programme to design a new Russian engine – the 16.7 kN (3,748 lb st) Aviadvigatel (Soyuz/CIAM) RD-1700 – which is stated to be 2.5 times cheaper than the Larzac and which may remedy early shortfalls in performance, ceiling and range. Flight test of MiG-AT with RD-1700 could be undertaken in 2002, if funded. Suggested that MiG-AT has bureau Type number 08, perhaps with original T-tail configuration being 8.1 and later version as 8.2, prototype configuration being 8.21. Prototype rolled out 18 May 1995; high-speed taxi trials at Zhukovsky August 1995; first 5 minute hop 16 March 1996; first flight 21 March 1996, piloted by Roman Taskaev; three aircraft being used for flight test programme; two static test airframes; production of first series of 16 at MAPO plant well advanced (probably reduced to 12), with seven in final assembly by December 1998. Subsequent progress delayed by funding difficulties; no sign of emergence of production ATs by mid-1999. Russian requirement for 200 to 250 trainers in this category. Request for funds for first 10 aircraft made by Russian Air Forces, late 1996, at which time 10 engines ordered from Turbomeca-SNECMA. Further 20 engines ordered late 1997 for FFr230 million (US$39 million), while Sextant contracted to supply 30 nav/attack systems. Actively promoted in India and South Africa; may have been eliminated from Indian competition due to renewed IAF emphasis on timescale, though BAE Hawk's reported selection may yet be reversed. Beaten by BAE Hawk in South Africa. MiG-AT aircraft now being marketed as one element in AT System, incorporating simulators, computerised classrooms, part-task simulators, and video training packages, all using unified software.
Design Features: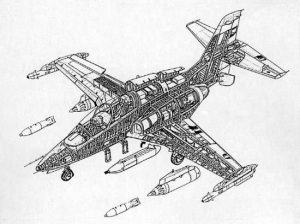 Intended to have manoeuvrability comparable with front-line combat aircraft, and service life of 15,000 flying hours or 30 years, with not fewer than 25,000 landings, maximum angle of attack of 25º, and sustained 5.4 g turn in 4 km (2.5 mile) radius at M0.7. Able to fly OEI at any stage, including take-off. Reconfigurable FBW FCS to simulate both the handling and limits of other front-line combat types. Onboard simulation of manoeuvring target, meteorological conditions and system failures via HUD, as well as specialised training for all operational modes of individual types of modern combat aircraft of Russian or foreign manufacture. Conventional low-wing monoplane; wing-root leading-edges swept-forward, with engine air intakes initially overwing to minimise risk of FOD; sweptback vertical tail surfaces; unswept tailplane; tailcone comprises two front-hinged door-type airbrakes.
STRUCTURE:
One-piece, three-panel tapered wing of aluminium alloy, with some honeycomb skin. Three-section fuselage of aluminium alloy, but reportedly with 40 per cent of skin in CFRP/GFRP, including access panels on spine, three-piece engine covers, nose avionics bay cover and parts of wing/nacelle and nacelle/fuselage fairings. CFRP intake ducts and CFRP honeycomb wing trailing-edge control surfaces (elevators and flaps) and fin box, rudders, tailplane and elevators. Fin leading-edge of aluminium alloy and integral with rear fuselage. Titanium alloy rear fuselage forming `open-box' with sidewalls acting as engine bay fire protection. Split airbrakes and ejection seat mounting tracks also of titanium with intake lips in stainless steel.
POWER PLANT:
Two Turbomeca-SNECMA Larzac 04-R20 turbofans, each 14.12 kN (3,175 lb st), mounted above wingroots. MRT-931 FADEC controls. Ratings can be reduced by 30 to 40 per cent for primary training. Change to new Chernyshev-built Soyuz RD-1700. One main fuselage fuel tank and one (three-section) tank in each inner wing. Total capacity 2,390 litres (632 US gallons, 527 Imp gallons). Single-point pressure refuelling point in lower rear fuselage adjacent to wing trailing-edge, with five gravity refuelling points (one above the fuselage tank and two above each wing). Tanks pressurised with engine bleed air to ensure high-altitude supply.
FLYING CONTROLS:
Avionika KSU-821 integrated hybrid (digital/analogue) multichannel fly-by-wire flight control system with multiple redundant air data computer. System incorporates autopilot, autothrottle and automatic stall-protection systems. Three-axis controls; three leading-edge slat sections and single-section slotted trailing-edge flaps on each wing. Split two-section rudder above and below tailplane. Hydraulically operated split airbrake beneath lower section of rudder.
AVIONICS:
Integrated by Russian GoSNIIAS avionics research institute and Sextant Avionique, France. Multifunctional central computer, with all data integrated through MIL-STD-1553B equivalent databus. Comms: ERA 2000 VHF/UHF transceiver, SG100 IFF, SPU-821 intercom, ALMAZ-UBS voice recorder. Flight: Automatic control system; UMT 33 air data unit; Totem 3000 laser-gyro INS; NSS 100S-1 GPS. NR 510A 101 VOR/ILS receiver/marker; NC-12B Tacan; EVS 915 video recorder; Tester U3A flight data recorder.Instrumentation: Two MFD 55 multifunctional liquid-crystal colour CRT displays with buttons in each cockpit; helmet-mounted displays; front-cockpit wide-field HUD with input from colour video and TV camera; HSI/ADI.
MiG-AT Specification
Prime contractor:
Mikoyan-Gurevich Design Bureau
Country of origin:
Russia
Function:
Advanced trainer
Crew:
2
Year:
1996
In-service year:
NA
Power plant:
Two Turbomeca-SNECMA Larzac 04-R20 or Two Soyuz RD 1700s turbofans
Thtust:
Larzac 04-R20 – 3,175 lb. each
Soyuz RD 1700s – 3,751 lb. each
Soyuz RD 1700s – 1,705 kg. each
Dimensions
Wing span:
33 ft. 3 in.
10.16 m.
Length:
39 ft. 4 in. (including nose probe)
12.01 m. (including nose probe)
Height:
14 ft. 5 in.
4.42 m.
Weight:
Normal
10,142 lb.
4,610 kg.
Max. takeoff
15,400 lb.
7,000 kg.
Performance
Ceiling:
50,840 ft.
15,500 m.
Speed:
Max. speed at 8,200 ft. (2,500 m.)
621 mph.
1,000 km/h.
Max. speed at sea level
528 mph.
850 km/h.
Range:
1,615 miles (approx)
2,600 km. (approx)
Armament
Max. external weapons load of 2,000 kg. (4,400 lb.) including R-73E (AA-11 "Archer"), R-77 (AA-12 "Adder"), AIM-9L Sidewinder or AAMs., Kh-29TD (AS-14 "Kedge"), Kh-31AE/PE (AS-17 "Krypton"), ASMs., S-5 or
unguided rockets, cluster bombs, conventional bombs, UPK-23 twin-barrel 23mm gun pods, Vikhr anti-tank missiles.
Known Variants
MiG-AP, MiG-AS, MiG-ASK, MiG-ATK, MIG-ATS, MiG-ATSK, MiG-UTS
Operators
Russia
Aircraft's Price
1996 – $12 millions
Development costs – $200 millions.