Variants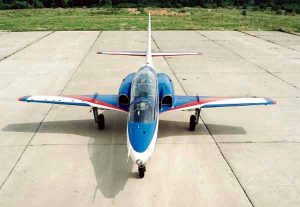 MiG-UTS (MiG-ATR)
Planned Russian Air Forces' version, with Russian avionics and RD-1700 engines.
MiG-ATS
Combat trainer, with increased capabilities and underwing hardpoints able to launch guided missiles, using guidance equipment pod. Second flying prototype (823 `83′) to this standard and has Russian avionics.
MiG-AS
Single-seat light tactical fighter version with built-in gun and radar for all-weather use of AAMs and ASMs; intended to compete in international market with BAE Hawk 200. Single-seater, aerodynamically similar to original MiG-AT, with rear cockpit covered by metal fairing of similar outline to original canopy.
MiG-AP:
Patrol coastguard fishery protection law enforcement and SAR co-ordination aircraft; based on MiG-AS; nose-mounted search radar.
All versions can be modified for deck operation on aircraft carriers at customer's request as:
MiG-ATK (French avionics)
MiG-ATSK (armed trainer)
MiG-ASK (single seater)
Span with optional wing folding 6.50 m (21 ft 4 in). Provision for deck arrester hook and catapult launching.