MiG-1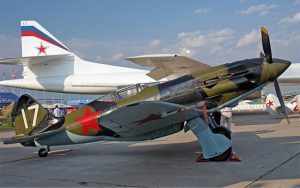 Introduction:
The Mikoyan-Gurevich MiG-1 was a Soviet fighter aircraft of World War II. Although difficult to handle, it formed the basis for the MiG-3, which proved to be a capable high-altitude interceptor aircraft and established a reputation for its designers.
Design:
The MiG-1 was designed in response to a requirement for a high-altitude fighter with an inline engine issued by the VVS in January 1939. Initially the aircraft, designated I-200, was designed in the Polikarpov construction bureau. Work started in June 1939, under the direction of Nikolai Polikarpov and his assistant M. Tetivikin. Polikarpov himself preferred radial engines and promoted his I-180 design at that time, but when the powerful Mikulin AM-37 inline engine became available, he decided to use it in a fighter. The approach that he selected was to build the smallest possible aircraft around the intended powerplant, thereby minimising weight and drag — the philosophy of the light fighter. As specified, the aircraft was to be capable of reaching 670 km/h (417 mph). In August 1939, Polikarpov fell out of favour with Stalin and as a result, when Polikarpov went in November 1939 to tour Germany's aviation works, the Soviet authorities decided to scatter his construction team and create a new Experimental Construction Section (OKO), headed by Artem Mikoyan and Mikhail Gurevich, which remained formally subordinated to Polikarpov bureau until June 1940. Further work upon the I-200 design was assigned to Mikoyan and Gurevich, who later became recognized — not with full justice as its designers.
MiG-1 Specification
Prime contractor:
Mikoyan-Gurevich Design Bureau
Country of origin:
Soviet Union
Function:
Fighter
Crew:
1
Year:
1940
In-service year:
1940
Power plant:
One 1,350 hp. Mikulin AM-35A 12-cylinder radial liquid-cooled engine
Dimensions
Wing span:
33 ft. 5 in.
10.20 m.
Length:
26 ft. 8 in.
8.16 m.
Height:
8 ft. 6 in.
2.62 m.
Weight:
Empty
5,724 lb.
2,602 kg.
Max. takeoff.
6,818 lb.
3,099 kg.
Performance
Ceiling:
39,360 ft.
12000 m.
Speed:
389 mph.
626 km/h.
Range:
358 miles (w/max.payload)
576 km/h. (w/max.payload)
Armament
One UBS ShKAS 7.62mm machine guns, later underwing pylons with two unsynchronised BS machine-guns added, two FAB-25, FAB-50 or FAB-100 bombs, underwing pylons for six RS-82 rockets or two chemical weapon containers.