MiG-3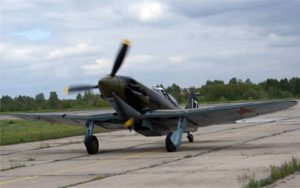 Development:
The large number of defects noted during flight testing of the MiG-1 forced Mikoyan and Gurevich to make a number of modifications to the design. Testing was done on a full-size aircraft in the T-1 wind tunnel belonging to the Central Aero and Hydrodynamics Institute (TsAGI) to evaluate the problems and their proposed solutions. The first aircraft to see all of these changes applied was the fourth prototype of the I-200. It first flew on 29 October 1940 and was approved for production after passing its State acceptance trials. The first MiG-3 as the improved aircraft was named on 9 December, was completed on 20 December 1940 and another 20 were delivered by the end of the year.
MiG-3 Specification
Prime contractor:
Mikoyan-Gurevich Design Bureau
Country of origin:
Soviet Union
Function:
Fighter
Crew:
1
Year:
1941
In-service year:
1941
Power plant:
One 1,350 hp. Mikulin AM-35A 12-cylinder liquid-cooled engine
Dimensions
Wing span:
33 ft. 5 in.
10.20 m.
Length:
27 ft. 1 in.
8.26 m.
Height:
11 ft. 5 in.
3.50 m.
Weight:
Empty
5,938 lb.
2,699 kg.
Max. takeoff
7,370 lb.
3,350 kg.
Performance
Ceiling:
39,360 ft.
12000 m.
Speed:
398 mph.
640 km/h.
Range:
776 miles (w/max.fuel)
1,250 km. (w/max.fuel)
Armament
One UBS 12.7mm machine-gun, two ShKAS 7.62mm machine guns, later underwing pylons with two unsynchronised BS machine-guns added, FAB-25, FAB-50 or FAB-100 bombs, underwing pylons for six RS-82 rockets, two chemical weapon containers.