10 Principles Of Effective Web Design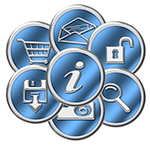 In order to use the principles properly we first need to understand how users interact with web-sites, how they think and what are the basic patterns of users' behavior.
How do users think?
Basically, users' habits on the Web aren't that different from customers' habits in a store. Visitors glance at each new page, scan some of the text, and click on the first link that catches their interest or vaguely resembles the thing they're looking for. In fact, there are large parts of the page they don't even look at.
Most users search for something interesting (or useful) and clickable, as soon as some promising candidates are found, users click. If the new page doesn't meet users' expectations, the Back button is clicked and the search process is continued.
Users appreciate quality and credibility. If a page provides users with high-quality content, they are willing to compromise the content with advertisements and the design of the site. This is the reason why not-that-well-designed web-sites with high-quality content gain a lot of traffic over years. Content is more important than the design which supports it.
Users don't read, they scan. Analyzing a web-page, users search for some fixed points or anchors which would guide them through the content of the page.
Web users are impatient and insist on instant gratification. Very simple principle: If a web-site isn't able to meet users' expectations, then designer failed to get his job done properly and the company loses money. The higher is the cognitive load and the less intuitive is the navigation, the more willing are users to leave the web-site and search for alternatives.
Users don't make optimal choices. Users don't search for the quickest way to find the information they're looking for. Neither do they scan web-page in a linear fashion, going sequentially from one site section to another one. Instead users satisfice; they choose the first reasonable option. As soon as they find a link that seems like it might lead to the goal, there is a very good chance that it will be immediately clicked. Optimizing is hard, and it takes a long time. Satisficing is more efficient.
Users follow their intuition. In most cases users muddle through instead of reading the information a designer has provided. According to Steve Krug, the basic reason for that is that users don't care. "If we find something that works, we stick to it. It doesn't matter to us if we understand how things work, as long as we can use them. If your audience is going to act like you're designing billboard, then design great billboards."
Users want to have control. Users want to be able to control their browser and rely on the consistent data presentation throughout the site. E.g. they don't want new windows popping up unexpectedly and they want to be able to get back with a "Back"-button to the site they've been before: therefore it's a good practice to never open links in new browser windows.
1. Don't make users think
According to Krug's first law of usability, the web-page should be obvious and self-explanatory. When you're creating a site, your job is to get rid of the question marks — the decisions users need to make consciously, considering pros, cons and alternatives.
If the navigation and site architecture aren't intuitive, the number of question marks grows and makes it harder for users to comprehend how the system works and how to get from point A to point B. A clear structure, moderate visual clues and easily recognizable links can help users to find their path to their aim.
Let's take a look at an example. Beyondis.co.uk claims to be "beyond channels, beyond products, beyond distribution". What does it mean? Since users tend to explore web-sites according to the "F"-pattern, these three statements would be the first elements users will see on the page once it is loaded.
Although the design itself is simple and intuitive, to understand what the page is about the user needs to search for the answer. This is what an unnecessary question mark is. It's designer's task to make sure that the number of question marks is close to 0. The visual explanation is placed on the right hand side. Just exchanging both blocks would increase usability.
ExpressionEngine uses the very same structure like Beyondis, but avoids unnecessary question marks. Furthermore, the slogan becomes functional as users are provided with options to try the service and download the free version.
By reducing cognitive load you make it easier for visitors to grasp the idea behind the system. Once you've achieved this, you can communicate why the system is useful and how users can benefit from it. People won't use your web site if they can't find their way around it.
2. Don't squander users' patience
In every project when you are going to offer your visitors some service or tool, try to keep your user requirements minimal. The less action is required from users to test a service, the more likely a random visitor is to actually try it out. First-time visitors are willing to play with the service, not filling long web forms for an account they might never use in the future. Let users explore the site and discover your services without forcing them into sharing private data. It's not reasonable to force users to enter an email address to test the feature.
As Ryan Singer — the developer of the 37Signals team — states, users would probably be eager to provide an email address if they were asked for it after they'd seen the feature work, so they had some idea of what they were going to get in return.
Stikkit is a perfect example for a user-friendly service which requires almost nothing from the visitor which is unobtrusive and comforting. And that's what you want your users to feel on your web site.
Apparently, Mite requires more. However the registration can be done in less than 30 seconds — as the form has horizontal orientation, the user doesn't even need to scroll the page.
Ideally remove all barriers, don't require subscriptions or registrations first. A user registration alone is enough of an impediment to user navigation to cut down on incoming traffic.
By Vitaly Friedman.
Read more: http://uxdesign.smashingmagazine.com