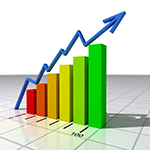 In this article I share how, by following a specific strategy, I grew my organic search traffic by 1465% within just 12 months. That's nearly 16 times the amount of traffic I had before.
In terms of the actual data, 12 months ago I had just 52 visitors arriving at my site after clicking through from a search engine. Last month, this had grown to 814 visitors. And it's likely to just keep on growing…
So what's the strategy?
In brief, it involves creating and publishing content to my blog on a regular weekly basis, coupled with sharing it on social.
So nothing too out the ordinary. Yes, basically, blogging. But with a bit of magic sauce thrown in.