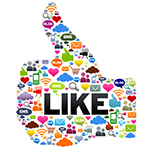 Social media marketing has never been more important for both offline and online business.
Facebook has over 1 billion users and Twitter has over 600 million users.
By using social media marketing your business has an incredible opportunity to connect with your target audience, increase your exposure, generate leads and bring in sales.
Let's take a look at some simple ways you can use social media marketing to boost your business.
Getting Your Social Media Marketing Started.
The first task for your social media marketing strategy is to create a Facebook page and Twitter account. Both are free to set up. Choose a name that's easy to remember and preferably short.