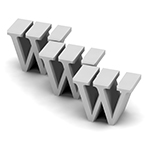 Many clients wonder why their website is slow and why it gets slower every couple of months. We often assist clients in determining issues with their website and sometimes even need to convince them that it is not related to their hosting service. It's like having a great car but a lousy chauffeur.
No matter how good the car maybe and how fast it could go, if the chauffeur is not competent, the high-end car is worthless. In the same way, no matter how fast your hosting server is, if you do not have a well coded and well designed website, your website is bound to open with a crawl.
This article helps draw the attention of website owners to the various things that can be done to speed up their website to make it more SEO friendly.