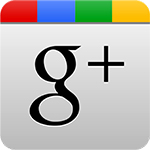 I really love Google Plus and have been using it more and more over the past few months. In my opinion its going to become one of the social media platforms that will stay in the game for the long haul. Lets face it – Google are very good at everything they do. Here are 10 reasons why you just have to love Google Plus.
#1 The +1 option is almost the same as the "like" button in Facebook. When you do a Google web search and see a button that looks like a folder with a "+1″ on it, you can click on the "+1 folder" to share that link.
When looking at a blog, picture or article you can click +1 button. On your Google Plus profile, +1′s show up under their own tab. It really is simple to find.